AgrOnov is a network of partners that enable companies to improve their growth, their competitiveness and their capacity for innovation in agriculture. AgrOnov gathers farmers, scientists, investors, entrepreneurs around tomorrow's agriculture. It's unique in France!
– Pierre Guez, President
A dynamic and supportive ecosystem
The implementation of agriculture is reflected in the development of different models of agriculture. To this end, AgrOnov is based on the agriculture skills of Burgundy-Franche-Comté, in terms of research, training, innovation and know-how, in conjunction with economic key-actors. The region is a vast agricultural territory recognized for the diversity of its productions, its chains of excellence and the quality of its products. Based on these strengths and assets, AgrOnov carries the legitimate and realistic ambition of an innovative collective project in favor of agriculture.
A unique setting in France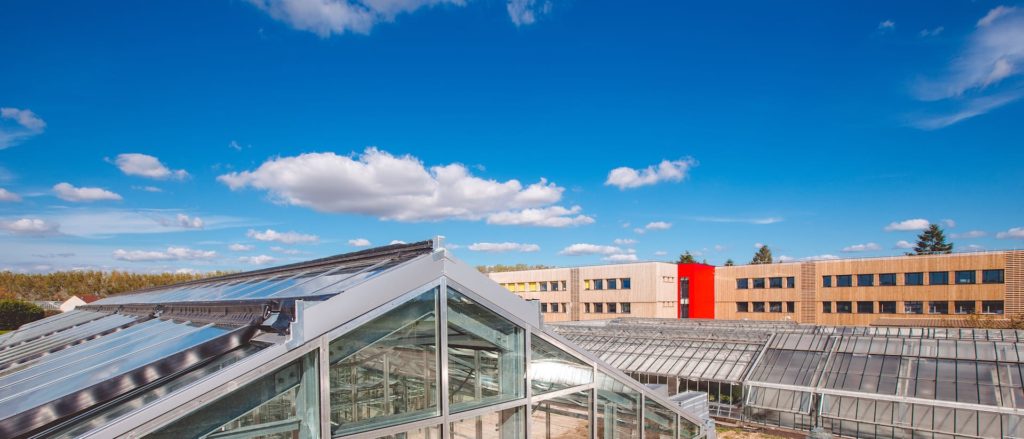 A unique setting in France
In inaugurating its premises, AgrOnov has given itself a unique site that is both a business incubator and a research center. It impels development projects and foster innovative structures in the domain of agriculture. Located in south Dijon, France, the site hosts the AgrOnov business incubator as well as the House of Agriculture, built in 2015.  In total, 250 people have already come together on the site.
The AgrOnov business incubator hosts itself some 10 structures and some 50 people. The laboratories and the adjoining 1000 m2 (approx. 10,750 sq. ft.) of greenhouses makes this facility a privileged destination for entrepreneurs, scientists and investors in agriculture.
The AgrOnov incubator includes:
2700 m² to accommodate innovative businesses (30,000sqft)
1000 m² of greenhouses available ( 10,750 sqft)
13 ha of land suitable for development (32 acres)
Meeting and training rooms equipped
State-of-the-art scientific equipment